Deutsche Bank Graduate Programs & Internships
The Asia Pacific region has always played an important role in Deutsche Bank's international strategy. Our roots in Asia go back to 1872 when our first branches were opened in Shanghai and Yokohama. Today we are present in 14 markets in the region. Deutsche Bank has no active opportunities at the moment.
See who's currently hiring with our Job Search!
Search for jobs
At Deutsche Bank, we're changing what it means to be a bank. It's about making a positive difference and cultivating new perspectives. That's why with us, your ideas have impact. As an established global financial institution, we're at the forefront of driving change and innovation in the industry. That's why we're looking for creative and curious thinkers who are ready to make a difference from day one.
Today, we're driving growth by investing in digital technology and ensuring we have a positive impact on our expanding client franchise operations. Deutsche Bank provides banking services to corporations, governments, and private individuals around the world. Through an array of services, we aim to enable economic growth and societal progress by creating a positive impact for our clients, people, investors, and communities.
Wherever you join us, you'll be part of a structured, ongoing training programme that will support your continuous development. As you build your skills, you'll also build relationships across the bank. Working side-by-side with colleagues and senior leaders across the globe, you'll experience a diversity of thought and opinion that'll expand your thinking. You'll have opportunities to harness your own individuality and bring a fresh perspective to your work, our business, and even our industry. Here, your voice is heard and your ideas make a difference.
If you have the drive to succeed in the fast-paced financial services industry, Deutsche Bank could be an exciting place to begin your career. With us, you're becoming part of a diverse and inclusive culture that is creating a positive impact within the financial world. So, if you have an eye for detail, a view towards the big picture, and a deep interest in changing the status-quo, you could unlock opportunities to work on live deals and transform the way millions of people use our services.
Grow your potential and make your mark at Deutsche Bank. Discover a career to look forward to at careers.db.com.
Deutsche Bank Graduate Programme
From the day you join Deutsche Bank, you'll be working as part of a global team that is transforming the world of banking. Our development programme offers extensive training, exposure to stimulating projects, and the opportunity to gain the knowledge and skills you need to provide innovative products and services to our clients. You'll work alongside some of the industry's top minds and build a valuable network that will support you as you progress in your career. You'll be given various opportunities to not only have your opinions heard, but also get to make an impact. If you have the drive to succeed in the fast-paced financial services industry, Deutsche Bank is an exciting, supportive place for you to begin your career.
To find out more about opportunities at Deutsche Bank and to apply, please visit careers.db.com.
Deutsche Bank Internship Programme
At Deutsche Bank, we're changing what it means to be a bank. It's about making a positive difference and cultivating new perspectives. That's why with us, your ideas have impact. We're always looking for creative thinkers who are ready to make a difference from day one.
An internship at Deutsche Bank is your stepping stone to success and your first look into what life is like on our Graduate Programme. You'll become part of a collaborative and inclusive workplace as you build on your technical and interpersonal skills, take on real responsibilities, hear from senior leadership through our speaker series, work on live projects, grow your network and learn first-hand how we deliver for our clients.
If you want the opportunity to shape your own career as well as the future of the financial industry, then we will give you the platform and foundation to do so. Expand on your knowledge and learn everything you need to build a career you can be excited about.
To find out more about opportunities at Deutsche Bank and to apply, please visit careers.db.com.
What type of candidate do we look for?
We recruit people from a broad range of backgrounds and universities for a wide variety of roles.
We don't need you to have a financial or mathematical background to work here – although obviously there are some roles where you'll need to have strong numerical skills.
We're looking for entrepreneurial people who thrive best in a diverse and inclusive culture where innovation and agile thinking are abound.
Ultimately, we hire more for aptitude and attitude than for what you know already.
We're looking for people who can apply themselves and perform at an exceptional level across a variety of disciplines, rather than looking for specific experience.
Curious about Deutsche Bank? Play this interactive game to explore different situations, gain insight in our culture and get a sneak peek into our environment.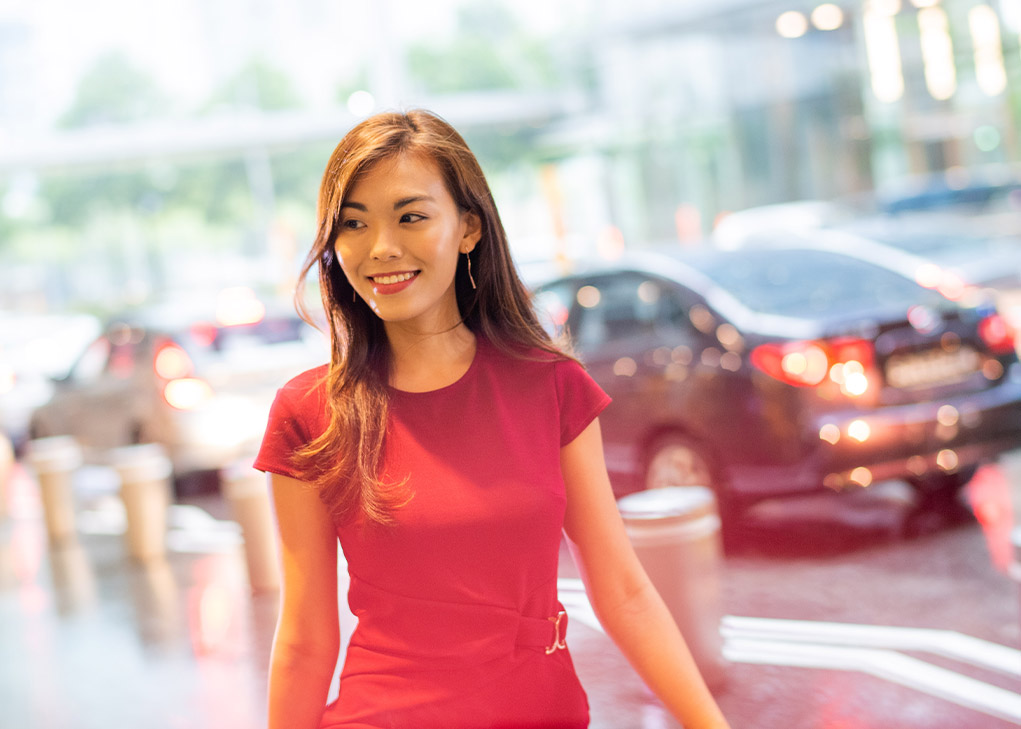 Julia Lim
Julia is putting people first.
When a lot of students look at banking, they naturally associate it with technical knowledge, maths and everything quantitative. But while those aspects form an integral part of what we do, banking is ultimately a people business. Julia, a Private Wealth Management Analyst in our Singapore office, found out what that meant for her career when she joined our Graduate Programme in 2017.
Finding the right fit
After majoring in Finance and Corporate Communications at school, Julia knew she wanted to work in finance and specifically in wealth management.
"I chose this division because I wanted a role that was a bit more person-to-person, rather than person-to-business. I think wealth management really makes an impact on individuals."
She completed an internship in Wealth Management in Singapore and was offered a place on the graduate programme where she rotated through different teams including lending, strategy and project management. In her final placement within the funds team, Julia and her manager both realised her people-focus and people skills meant she had the potential to be an exceptional products specialist.
"Studying Finance clearly helped me technically, but I found the Corporate Communications studies gave me a complementary skillset when I worked on investor relations. It's really applicable for my team."
A people-first culture
In her role, Julia works with relationship managers and investment advisors to find the right resources from around the bank to provide bespoke solutions for clients' needs and strategically manage their funds. It's a dynamic team where a lot of different clients have continually changing needs depending on what else is happening around the world.
"Our clients demand a very high level of responses and it can get hectic at times but that means I get a lot of opportunities to present to stakeholders. If I encounter difficulties there is always someone I can speak to. It's a very inclusive and collaborative community."
With her team being around eight people spread over Hong Kong and Singapore, Julia recognised how important the team's culture was and the opportunities it enabled from day one.
"Everyone has their own area of expertise and people are very willing to let you learn, especially as a junior. I feel Deutsche Bank is a place where seniors are really keen to guide you. They want to see you develop and help them as you grow as an individual and a colleague."
This combination of opportunity and support means Julia is feeling confident about her future. Her ambition to work with individuals as well as institutions has put her in a strong position to start building the relationships that can make it happen.
---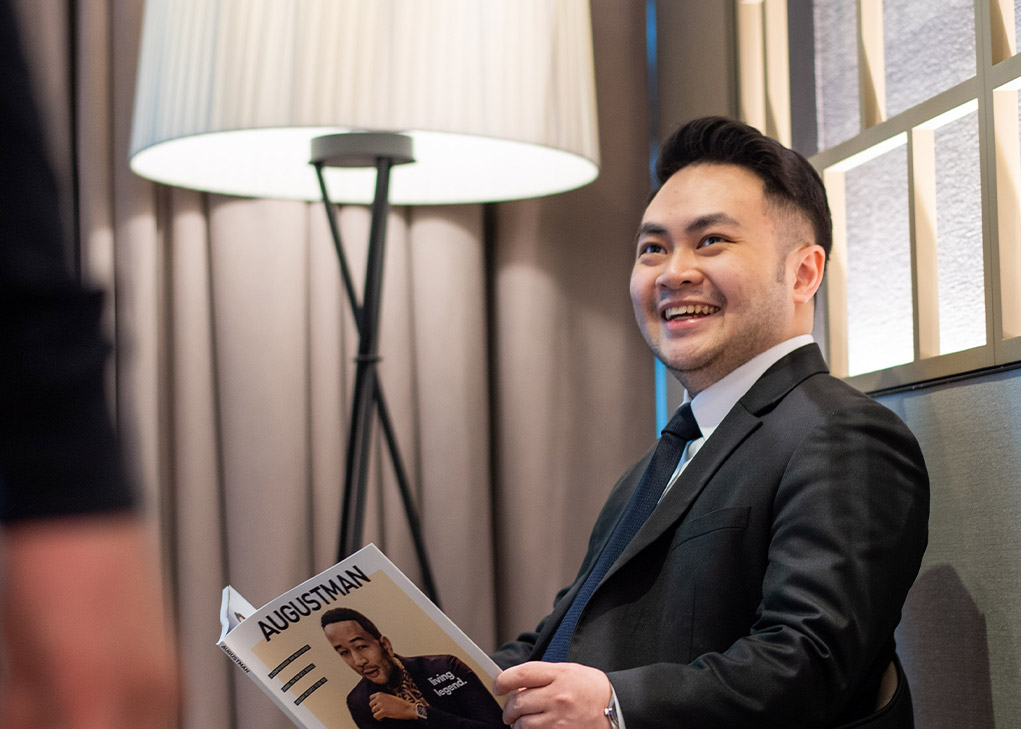 Bryan Tan
Bryan is capturing every opportunity
When did you last change jobs? Did you find you had to start over again when it came to building skills and growing a network? Bryan, a Sales Manager in our Corporate Cash Management team in Singapore, is proof that changing roles is an effective way to build a career where a diverse range of experience can help you progress even quicker. By prioritising our people, we're creating a culture that gives employees control over their careers.
Building a diverse network
Bryan originally joined us as an intern in Group Risk via Singapore Management University. He wanted to build on a prior stint in Operations and gain a deeper understanding of risk. Bryan began to realise that a client-facing role in Global Transaction Banking (GTB) played to his strengths and might be more in line with his career plan.
"People were happy to share more about what they did. They were really supportive in helping me find out more."
After joining the Corporate Bank graduate programme in 2016, he rotated through several areas of Global Transaction Banking including Relationship Management, Sales, Product Management and Client Service, before taking a permanent role in the Cash Management team. As a result of the broad exposure he gained from each rotation, Bryan continued to establish a strong network that stretched across the bank.
"The number one benefit of the graduate scheme for me is the network I built. We get the opportunity to work with people across different functions, different countries. In my current role, we rely on the network to get things done."
Analyst to Sales Manager
Bryan's first role in the Cash Management team was a Regional Sales Analyst. He supported eight different sales managers each with their own portfolios. Within a year, Bryan became a Sales Manager. The exposure he had as an analyst served him well, but so did all his other experience in the bank.
"Every step of my journey in the bank has shaped my understanding of the nuances across departments and locations. Through my experiences, I understand the varying demands of these environments."
This is useful in Cash Management, a particularly fast-moving area of the bank. Bryan rarely works on singular projects but instead continually collaborates with internal teams and clients to eradicate friction in processes and create mutually beneficial efficiencies.
Outside of work, Bryan is a photography enthusiast, spending his free time finding the right light and great moments to capture. He draws the same principles for his work as he does in photography.
"I tell people the key to photography is visualising the shot before you take it. It's the same in sales; it's all about opportunities. We need to understand our client, what we're good at, what we're not and marry them together. Just like photography, you always need to be prepared to capture those opportunities."
Keep on evolving
It's an attitude that Bryan applies to his career. Bryan is only two years into his career, and has achieved an exceptional amount through determination and the ability to draw on his diverse range of experiences. He credits his success so far on his commitment to learning and doesn't plan on stopping soon.
"I've always seen my career as quite opportunistic. I think the wonderful thing about Deutsche Bank is that there are always opportunities available and if you raise your hand, you will be considered."
---